Looking For A Chiropractor Near You?
Get Fast Relief At Doster Chiropractic
Experienced Chiropractors Serving Asheville Since 2001
Whether you've been sidelined by persistent pain or are simply seeking to enjoy better overall health, our local chiropractors can help. Dr. Jarod Doster and Dr. Tanya Doster invite you to discover the many benefits of gentle and effective chiropractic care.
We believe everyone should have access to the numerous benefits chiropractic care provides. We accept insurance and offer convenient payment plans and we are proud to offer on-site digital X-rays, convenient hours & FREE consultations.
Conditions Commonly Treated
Carpal tunnel syndrome
Elbow pain
Headaches
Hip pain
Knee pain
Low back pain
Neck pain
Pregnancy & Pediatric care
Plantar fasciitis
Sciatica
Shoulder pain
Motor vehicle accidents
Start on your road to wellness today with a FREE CONSULTATION -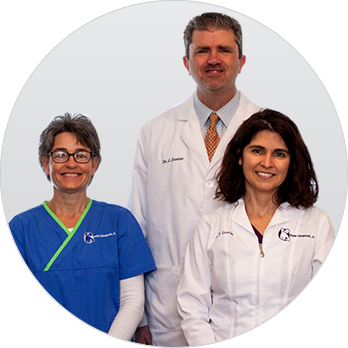 Affordable, Convenient Chiropractic Care Near You
We know you're busy. That's why we are pleased to offer on-site digital X-rays and multiple care options all in one location. Our friendly, no-pressure environment is the ideal place to get the effective chiropractic care you need so you can get back to your day. Why travel farther when you can get great care close by?
Call us at (828) 236-2200 to schedule your FREE CONSULTATION now!

Get A FREE Consultation With Our Asheville Chiropractor
If you're experiencing pain, contact us now. We'll schedule a free consultation and examination to determine the underlying cause of your pain and create a customized treatment plan to get you back to feeling your best.
You have nothing to lose but your pain.
Book your FREE CONSULTATION today by calling us at (828) 236-2200 or scheduling an appointment online!

I highly recommend Dr. J and Dr. T. They are a great team and provide excellent care. Their office staff rocks too!!!!

I feel very comfortable with both Dr. J and Dr. T. Both are great doctors with different skill sets that work with my daughter and myself.

This place is AWESOME. The staff are all very friendly and accommodating and honestly I couldn't say enough good things about their practice.

You Don't Have To Live In Pain.
Call Us Today! (828) 236-2200

Top Asheville Chiropractor
*IF YOU DECIDE TO PURCHASE ADDITIONAL TREATMENT, YOU HAVE THE LEGAL RIGHT TO CHANGE YOUR MIND WITHIN THREE DAYS AND RECEIVE A REFUND.