About Us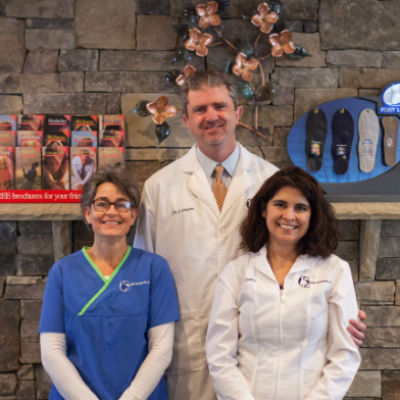 After four years in Dallas, TX attending Chiropractic school and dealing with 110 degree temperatures, Dr. Jarod Doster and Dr. Tanya Doster couldn't wait to return home to North Carolina. They considered their hometown of Charlotte, NC, however, with a baby on the way, they wanted our child to grow up in a less hectic environment. Ultimately, the beauty, climate and lifestyle that Asheville offered made the mountains the only logical choice and in August, 2001 they opened our doors.
Doster Chiropractic Listens
From the beginning, we were focused on creating a practice that felt like family. We pride ourselves on truly listening to our patients, not only their complaints but the goals they hope to achieve in our practice. Some patients are looking for pain relief only, while others are looking to truly make a change in their overall health by adding corrective care. No matter what our patient desires we wanted to help them achieve those goals without a high pressure sales environment. We have reached our goals by listening, performing thorough examinations and recommending for our patients what we would want recommended to us. Then, no matter what the patient chooses we respect their decision and strive to get them to their goal as soon as possible.
Our Mission
Our mission is to satisfy the health care needs of our community with safe and effective methods through the natural treatment of chiropractic care. The doctors will do all that they can do within their scope of practice to meet these needs. If we cannot accomplish our patients' needs we will refer them to someone who can.
The patients that consistently achieve the best results are not grouped by condition such as low back pain, neck pain or headaches. Instead, they are the patients that follow through with their doctors recommendations. They consistently make their scheduled appointments, they follow through with home recommendations, such as heat and ice therapy, and they are consistent with their home exercises.
The Doster Chiropractic Difference
There are many things that make Doster Chiropractic the best choice in Chiropractic care. First, we have two doctors available, male and female, bringing twice the expertise of most other offices and the option of a male or a female doctor if this is important for you.
The second reason to make Doster Chiropractic your choice for Chiropractic care in Asheville is the quality of our doctors. Dr. Jarod Doster graduated Cum Laude and fifth in his class of over 110 Doctors. He was voted top radiology student by his professors and uses these skills in the evaluation of all x-rays, MRI's and CT scans. Dr. Doster also completed a postdoctoral program in Neurology and became a board certified Chiropractic Neurologist in 2001. Since then he has complete additional post graduate programs at the University of Connecticut School of Medicine in the treatment of learning disorders, such as ADD and ADHD, and Vertigo. Furthermore, his training in neurology give him a deeper understanding of nerve function and improves his ability to diagnose and treat complicated conditions such as disc herniations, sciatica and carpal tunnel syndrome, just to mention a few. Dr. Jarod Doster has also had post graduate training in the treatment of soft tissue injuries which can be effective for ankle, knee and shoulder pain.
Dr. Tanya Doster graduated Magna Cum Laude and third in her class of over 100 doctors. She has completed hundreds of hours in post graduate training in nutrition and brings this expertise to bear with every patient. Dr. Tanya is also fluent in Spanish which enables her to be of better service to Asheville's Spanish speaking population.
The third reason is our goal-based approach to your care. Throughout your treatment you receive frequent re-examinations to evaluate your progress and the need for future care. We are constantly monitoring and measuring your improvement every step of the way. This guarantees no more treatments than necessary and ultimately no more cost than necessary.
Traditional Chiropractic care is the mainstay of our practice with both doctors being trained in many different techniques which enable them to customize your chiropractic experience to best fit your needs. On site x-ray, therapy machines, hand-made orthotics, exercise equipment as well as nutritional programs, Drs. Jarod and Tanya Doster have the experience and equipment available to make Doster Chiropractic your one stop shop for all of your chiropractic needs.
Ready to Get Started With Chiropractic Care?
We have a wonderful staff that is ready to greet you like family on your first visit and be there for you every step of the way. Friendliness and great personality are probably the two best words to describe our staff.
Contact us today to get started with chiropractic care!
---
Doster Chiropractic | (828) 236-2200