Pregnancy & Pediatric Chiropractic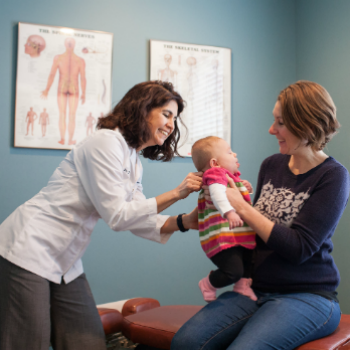 The Doster Chiropractic team has a passion for helping new moms, babies and children. They want to help raise a generation of children who don't have to suffer from common problems in adulthood. By getting them on a healthier track early on, they'll be set for a better childhood and a future full of abundant wellness.
Pregnancy and Chiropractic
Drs' Jarod and Tanya Doster have helped many patients during pregnancy. Many of our patients are referred (although referrals are not necessary) from their Obstetrician or midwife because of Chiropractic's success with back pain, headaches and neck pain during pregnancy. Chiropractic is not only gentle for patients that are pregnant but patients can enjoy the benefits of chiropractic during their entire pregnancy.
Children and Chiropractic
Although we may not think about our kids having problems, kids also need chiropractic. How many times a day do you fall or climb a tree or wrestle on the ground with your brother or sister? As adults, if we did this we would live at our chiropractor's office or be eating aspirin like candy. When kids have pain do not ignore it simply because it will go away in a couple of days. Remember the pain is simply a sign telling you there is an injury. Don't risk your kids having an injury that never fully heals and will haunt them later in life. Treat your child to gentle chiropractic care that will allow them to not only heal faster but stronger as well.
Discover the difference that chiropractic care can make when it comes to your health and the health of your children. Contact us today to book an appointment!

Pregnancy & Pediatric Chiropractor Asheville, Weaverville and Candler NC | (828) 236-2200