Fast Sciatica Pain Treatment In Asheville
Doster Chiropractic – Your Natural Solution For Sciatica Relief
Sciatica is caused by compression on the sciatic nerve and the pain can be excruciating. The low back pain that radiates down the back of the leg can be debilitating.
At Doster Chiropractic, we understand how discouraging it can be to to complete even the simplest of daily tasks with this pain and we are here to alleviate your sciatica.
We believe everyone should have access to our natural, fast sciatica pain relief. We accept insurance and offer convenient payment plans and we are proud to offer on-site digital X-rays, convenient hours & FREE consultations.
Book your FREE CONSULTATION today by calling us at (828) 236-2200 or request an appointment online.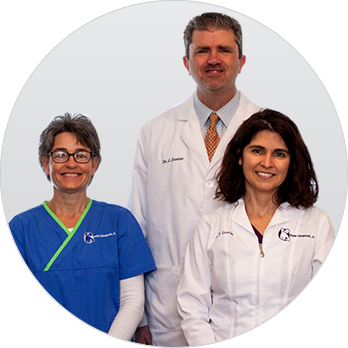 Sciatica Pain Relief Without Surgery
Dr. Jarod and Dr. Tanya have helped many patients experience sciatica relief without surgery. We employ natural, noninvasive chiropractic techniques to treat this chronic ailment.
If you're experiencing pain, contact us now. We'll schedule a free consultation and examination to determine the underlying cause of your pain and create a customized treatment plan to get you back to feeling your best.
You have nothing to lose but your pain.
Accessible, Affordable Sciatica Treatment For Everyone
At Doster Chiropractic, we believe everyone should have access to the best chiropractic care available. We are conveniently located in Asheville and offer free consultations.
We accept insurance, including Medicare and Medicaid, and are in-network for over 80 different insurance companies. If you have any questions about your insurance coverage or need to discuss a payment plan, please call us at (828) 236-2200.
If you're in pain, we want to help. Call us at (828) 236-2200 now!
This place is AWESOME. The staff are all very friendly and accommodating and honestly I couldn't say enough good things about their practice.

I feel very comfortable with both Dr. J and Dr. T. Both are great doctors with different skill sets that work with my daughter and myself.

I highly recommend Dr. J and Dr. T. They are a great team and provide excellent care. Their office staff rocks too!!!!
Call Us Today! (828) 236-2200
*IF YOU DECIDE TO PURCHASE ADDITIONAL TREATMENT, YOU HAVE THE LEGAL RIGHT TO CHANGE YOUR MIND WITHIN THREE DAYS AND RECEIVE A REFUND.